Changing the Default IPT Rates
On the Premium screen in Durell, you are offered the choice of three default IPT rates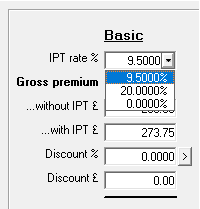 To change these default rates, click on "Accounts" from the Durell front screen and then select "Setup"


On the new screen that appears, select the "Tax Rates" tab. Once displayed, you can simply type over whichever of the default rates you wish to amend

It is not possible to change the "Default", "Travel" or "Marine" labels, associated with the defaults.
Related Articles

Set Default Invoice Date

From the Durell front screen, click on Setup and then General Insurance. In the new window which appears, select the "Posting" tab and you will see the setting to switch between today's date and the invoice date as a default invoice date.

Cost Centres

Overview Cost Centres allow you to analyse your accounts in additional ways, such as by office or department. You can already analyse your Durell accounts under named, or "Nominal", account headings, such as by… Telephones Stationery Commission ...

Lockdown adjustment Guide

How the lockdown works and what impact this has General Overview Lock Down Function – This feature prevents users from creating entries prior to a stated date. You can apply the same date for all or individually. The above screenshot will prevent all ...