Adding Nominal to the Trial Balance
From the Durell homepage click on "

Accounts

"






The following nominals in the "

Sales Ledger

" and "

Purchase Ledger

" sections will need to be added back into the report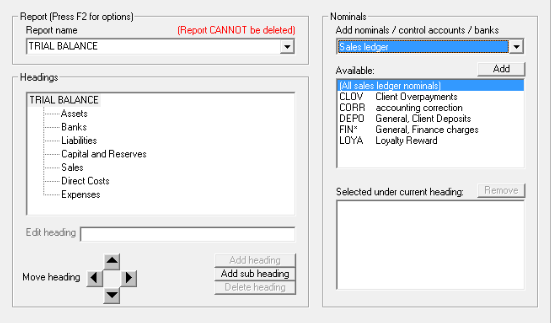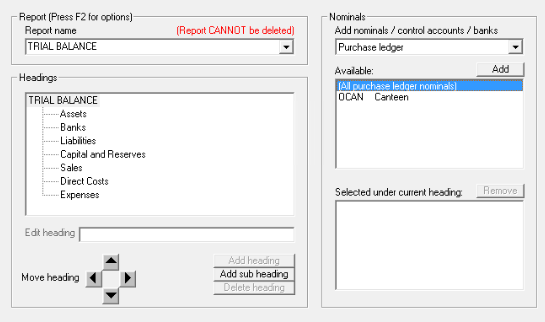 Click on "

Save

" and Trial Balance will now be corrected



Related Articles

Opening Balance or Bank Balance Adjustment

How to put in an opening balance. This should only be done to put in a balance when starting a new bank account when you are transferring in an amount from a previous client account or if you are making an adjustment to your bank balance as it ...

Debtors & Creditors vs Balance Sheet

To start, run a Balance Sheet to look at the state of the accounts, as of the end of January 2019 Once you have input the report credentials as seen above, it will provide you with the Balance Sheet. We can now compare the figures witnessed in the ...

Adding a Financial Year

From the Durell front page, click on " Accounts " , then on " Setup " ​ Select the "Financial Year" tab. Click "Add year", this will add a year to your accounts Durell Guides – Adding a Financial Year Page 1

Cost Centres

Overview Cost Centres allow you to analyse your accounts in additional ways, such as by office or department. You can already analyse your Durell accounts under named, or "Nominal", account headings, such as by… Telephones Stationery Commission ...

Basic Write Off of Unpaid Policy (General)

To write off an unpaid balance of a policy, the best procedure will be to create a negative MTA for the remaining balance. In the example we will use below, our unpaid balance is £50. Begin by creating an MTA. You do not need to worry about any of ...